Coca-Cola is a prime example of a high-calorie, sugar-packed fizzy drink that has very little nutritional value (vitamins and minerals). Many of us are already aware of this and opt for Coke Zero instead. But, is this really the healthier option?
The main difference between coke and coke zero is the sugar content. When drinking coke zero as opposed to regular coke, you are consuming significantly less sugar which is a positive for weight loss and reduces the risk of weight-related diseases. A study by the American Institute of nutrition found that consumption of high sugar drinks was positively associated with progression of insulin resistance and prediabetes, but no correlation was found with diet sodas.
Regular coke has a direct effect on our health and weight due to its excess sugar and calorie content. However, diet coke may not be the best alternative. Research suggests that diet coke may have indirect effects on our body that leads to weight gain and other adverse health effects.
Several studies have indicated that diet sodas may increase appetite-stimulating hormones such as ghrelin, therefore, increasing hunger. The artificial sweeteners in diet coke may also alter gut flora leading to reduced blood sugar control. Additives such as citric, malic, and phosphorus acid are present in both coke and coke zero, and have been linked to tooth erosion. Some research has also linked diet sodas to health conditions such as the increased risk of high blood pressure, osteoporosis, and heart and kidney disease.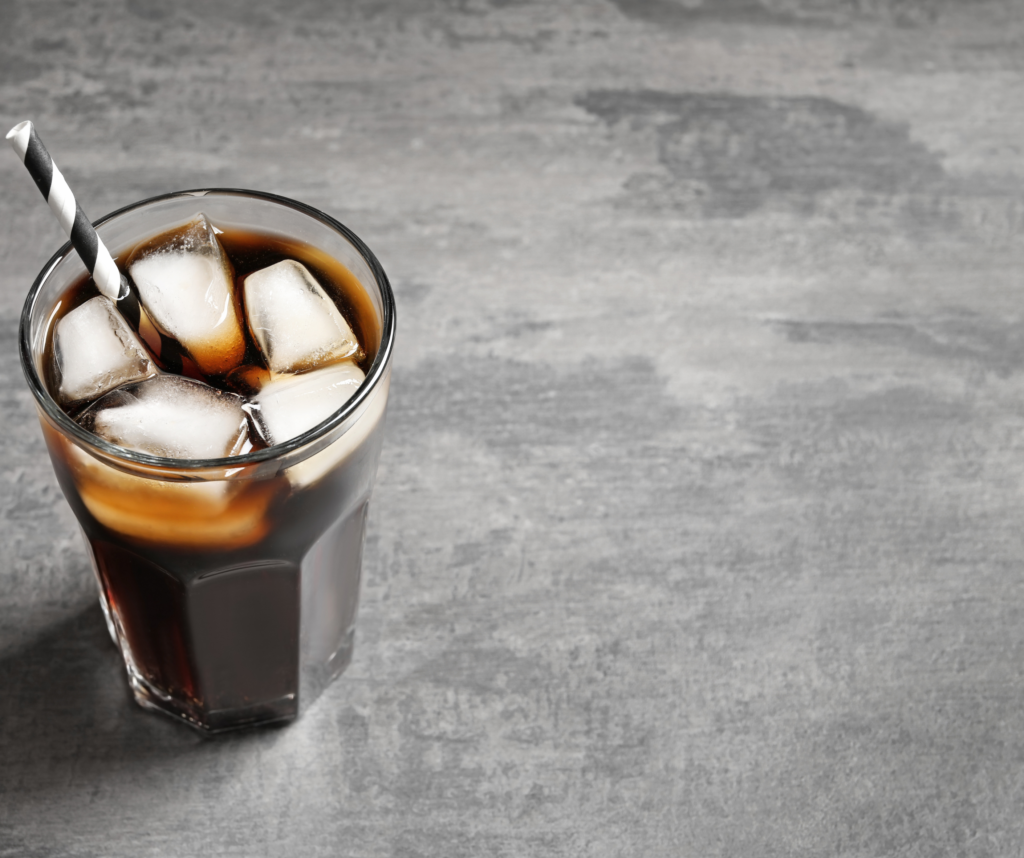 Maybe we need to consider why we actually crave fizzy drinks in the first place?
The most common reason is dehydration – have a glass of water first, and see if your fizzy craving is reduced.
A less prevalent reason is a calcium deficiency. The phosphoric acid in carbonated drinks can leach calcium and magnesium stores out of your bones, which momentarily increases the calcium in the body but then creates a continuous cycle of depletion. This is the reason high soda consumption is linked to osteoporosis, as the leaching of minerals reduces bone density and increases the risk of fractures. It is important to have a good intake of dark leafy greens such as spinach, kale, collards, bok choy, and broccoli. As well as quality dairy sources such as milk and Greek yogurt.
It is clear that there are negative aspects to both diet and regular coke. So, to maintain overall health sticking to good old water is the best bet. Both diet and regular coke should be consumed in moderation as a very occasional treat.
"Fitness HQ for women is a 24-hour women-only gym in Albany. They offer a non-intimidating space for ladies to work on their health and fitness. We love teaching group fitness, personal training and  overall helping ladies work to become the best version of themselves."