How to get over your exercise slump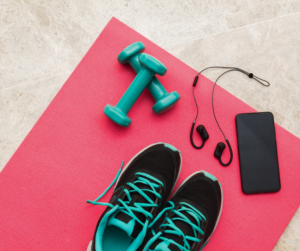 We've all been there… started off doing so well, making it to the gym 3-4-5 times a week and feeling great! But then, you fall off the exercise train for a couple of days… maybe over indulge in the foods you know you shouldn't and then you are left feeling like sh*t and feeling no motivation to get back into exercising! Sound a bit like you?
Well 2021 is here and it's time to leave what felt like a slump of a year behind and get back into the exercise routine you know you enjoyed at some point! Here are some of my go to tips to get back on track when that exercise slump hits!
Ease into exercise with an activity that you enjoy – whether that be going for a bike ride, hike, swim at the beach or a group fitness class! Starting off with an activity that you find enjoyment in is a great way to get the muscles pumping and heart rate up without necessarily feeling like you're exercising! This could be just enough to help you find your motivation to get your body moving and ass back to a regular routine! Even better, try something new! This could be a dance class, pilates, boxing, cross-training and so much more!
Bring a friend – I'm sure there's someone in your life who you can convince to come to the gym with you, even if its just one workout! Exercising with a friend can make it so much more enjoyable and can be a bit of a catch-up session! Instead of meeting for brunch or coffee, meet at the gym, the park or a walkway and then if you must… go get your brunch afterwards. Even better is challenging you friend in a workout to see who can complete the most reps during an interval or setting a workout and see who can finish it first!
Book it in as an appointment with yourself – things are starting to get back to normal since the Christmas/New Year break so its time to book in your appointments and set your schedules! If you see exercise as something you don't have time for anymore, make time and put it visibly in your diary or calendar as time for yourself! You don't like to skip an appointment and pay that cancellation fee so don't do that with your workout!
Making it once or twice is better than not at all – you may not be motivated or quite ready to smash out the same number of workouts a week as you did when you were more motivated but anything is better than nothing! If you can only drag yourself to the gym once, its probably more than you did the week before so see that as a win! Then slowly you will get back to two or three times and start to feel more motivated as you feel your mood and energy improve again! Don't beat yourself up when you can't do the same as when you were more in routine!
Record down your activity – each time you do a workout, write it down in your calendar or start a workout tally for yourself! I personally love looking back on the week and seeing how active or inactive I have been with moving my body and find it motivating to challenge it the next week to see if I can do more or different kinds!
Don't give up on yourself! The motivation will come back, you just have to be patient and do your best when you can!
"Fitness HQ for women is a boutique Women's only 24/7 gym, in the heart of Albany. Services include a full-service gym, small group fitness classes, personal training, and infrared sauna."