Importance of a good breakfast
Many of us find excuses in the morning for skipping a good breakfast whether that be you don't have time, you can't eat that early in the morning, or just not having food available. However, these are all excuses we should work on changing because starting your day off with a nutrient-filled breakfast comes with so many benefits! With health trends continuously changing we often overcomplicate things as simple as breakfast with fasting, no carbs before lunch and juice cleanses etc. When it comes down to it as long as you're not eating sugary crap (a lot of common cereals!) or a gas station pie you're most likely fueling your body with some of the nutrients it needs.
What is breakfast?
Breakfast broken down means break the fast. Overnight when you are sleeping your body is in a phase of fasting which gives your body time to digest, replenish and restore blood sugar balance. Breakfast in the morning breaks this fast and gives your body energy to carry out the new day. When you skip breakfast your body basically has no fuel to run on and this can lead to overeating, sugar cravings, and low energy.
Importance of a good breakfast
Breakfast helps to set up your day by providing your body with the nutrients it needs. In the morning your body's blood glucose level is low from fasting through the night. A good breakfast in the morning helps to increase your blood glucose level which gives you energy to start your day.
Breakfast can help with preventing weight gain. This is because fueling your body in the morning and giving yourself energy for the day can help maintain your hunger levels so you will often snack less. Excessive snacking because you have not eaten a substantial meal is a common cause of weight gain.
Nutritionally balanced meals for breakfast helps to maintain high brain activity more than skipping out on breakfast or drinking a high sugar drink. This can lead to improved concentration throughout the day and make it a lot easier to remember the small things we often lose track of.
There has been a lot of research done around whether skipping breakfast can increase your risk of diabetes and there has been a fair bit of evidence supporting this. When you start your day with a nutritious meal you increase your insulin levels which have decreased overnight. Increasing your insulin levels with a meal when you first wake up can help to prevent an insulin spike later in the day when you have lunch. Continuous insulin spikes can be bad for your health and can induce prediabetes.
Having a good breakfast in the morning helps to ensure you get the right amount of nutrients in the day. Quite often people do not get enough fruit and vegetables in their diets, so beginning your day with some fruit or veg will make a good contribution to your 5+a-day!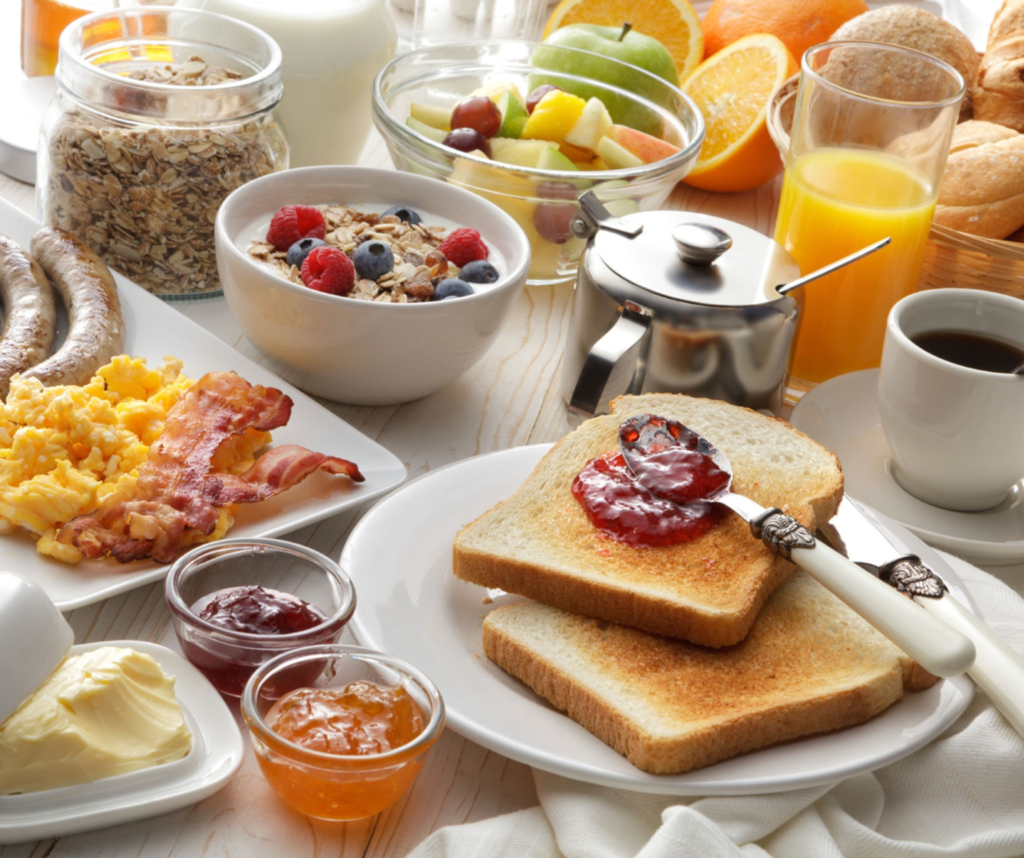 Healthy breakfast ideas
Eating a good breakfast doesn't need to be complicated!! Here are some of my favourite breakfast ideas that can be quick and easy!
Homemade granola served with Greek yogurt and blueberries (or any other fruit). This is super simple and can be prepared the night before and kept in the fridge to grab and eat on the go.
Scrambled eggs with a slice of wholegrain toast. Scrambled eggs can be super quick, whisk them with a fork and a bit of milk and either cook on a frypan or in the microwave on low heat for a few minutes. Even better is mixing in some spinach for extra goodness.
Overnight oats topped with nuts and seeds. This is a great source of fiber and made the night before makes it easy to grab and go.
Chia puddings with berries. Just like overnight oats made the night before! Mix a bunch of chia seeds with milk of choice and milk in some berries, leave in the fridge overnight and it will be like a little pudding.
Smoothies! Smoothies are a great way to get your fruit and veg in because you can throw everything in and often the fruit will make the smoothie sweet enough to enjoy. Add in some protein powder too and you have yourself a great breakfast that's super easy.
Omelet loaded with veg can be such a filling breakfast if you have a bit more time in the morning. My favourite is filled with baby spinach, red onion, capsicum and cherry tomatoes, and basil pesto.
2x boiled eggs to grab and go.