Is Vegan Protein Powder Better Than Whey?
A question we get asked a lot, is about the different types of protein powder there is. Which is best for me? Whey or vegan protein? It's a very good question as most people assume that vegan protein must be the best and healthier option. That is not necessarily the case and what works for me, won't necessarily work for you.
What is whey and vegan protein?
Whey is one of two proteins that is obtained from the production of milk and therefore is an animal-based protein.
Vegan protein is a plant-based product which can be from a variety sources. Most common ones we see are pea, rice, hemp or sunflower. Each different plant protein is unique and can offer your body different nutrients which can help with many things.
What are the main differences?
Firstly, Whey protein is what we consider a 'complete' protein as it contains all 9 essential amino acids. There are actually 22 amino acids which are found within the body and 9 are considered essential which must be obtained through your diet.  These essential amino acids will repair and recover your body optimally. Whey protein is also higher in branched chain amino acids (BCAAs) which stimulate muscle growth and maintenance.  By having all amino acids, whey also boosts the immune system by stimulating immune function. Another good point to make is that MOST people prefer the taste of whey protein compared to vegan/vegetarian protein powders. This can be a big factor in choosing and enjoying a protein.
Whey protein is also easily digested. However, as whey comes from animals and the production of milk, some people may be intolerant, as it contains lactose. Did you know about a third of the population is intolerant to lactose? As you get older your body can find it harder to digest lactose and can cause gas and abdominal discomfort. For people that have sensitive stomachs, plant-based protein may be the better option.
Not all Vegan or Vegetarian protein powders are a complete protein. For example, pumpkin protein does not contain all the essential amino acids. When looking for a plant-based protein it is good to find a protein that has a mix of different plant types to achieve getting all 9 amino acids.  Quite commonly, plant-based proteins only contain one type of plant.
However, a big positive to plant-based protein is that it contains more nutrients than whey and can offer more than just B vitamins and calcium (which whey has). They can contain an abundance of other vitamins and minerals depending on which plant protein it has come from. These can aide the body in many different ways. If you are looking for a bit more than just a protein powder, plant-based options could work well for you.
Which protein is best for me?
There is no right answer. There are many pros and cons of each one, the choice is up to you. If you are looking for an easily digested, good tasting, complete protein, then whey is your best option. However, if you have a sensitive stomach and are looking for a bit more than just protein, than plant-based protein may be a better option for you. At the end of the day, it is trial and error. If one does not agree with your body, try a different one, it all comes down to personal preference and individual tolerance.
Remember: that your daily intake of protein is from 0.8 – 2g X your body weight in KG. Idealy,  1 – 1.5g  X your body weight is what I would recommend.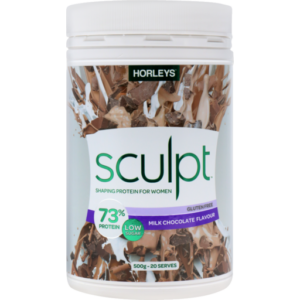 We stock Horleys Sculpt at the gym, which is a womens specific protein powder. It is whey protein which they have added extra nutrients and fat burning properties too (winning!). One scoop of sculpt is 18g protein.  Great taste and a great price.
"Fitness HQ for women is a boutique Women's only 24/7 gym, in the heart of Albany. Services include a full service gym, small group fitness classes, personal training, and infrared sauna."