My Healthy Snacks
Sometimes all it takes is a little inspiration to stick to healthy eating. We all know nutrition plays a big part in weight loss and health and snacking can easily become unhealthy. So let's get inspired and take look at some of my favourite snacks that are healthy, easy to make, and satisfying.
Muesli Bars:
Muesli bars and nut bars are convenient on-the-go snack. However, many brands pack them full of sugar, so much so that eating one bar would be the same as eating a slice of cake! The nice and natural range of protein nut bars has one of the lowest sugar contents on the market. The salted caramel flavour as pictured has the lowest sugar in the range at <2g per 100g.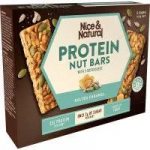 Rice cakes:
Rice cakes are low in calories and when topped with nutrient-dense foods, create a wholesome snack.
There are endless options for toppings, but here are a few ideas:
Nut butter and banana/apple slices
Avocado and tomato
Hummus and chicken
"Healthy Pizza" – Pizza sauce, melted cheese, olives, basil
Curried eggs
Tuna/salmon
Ham and cheese
Cream cheese and smoked salmon
Healthy berry and chocolate yogurt:
Greek yogurt is high in calcium and probiotics which aid in bone health and a healthy bacterial balance in the gut. However, plain Greek yogurt can be bitter tasting. The following recipes spruce up plain Greek yogurt to make it a little tastier.
Vanilla berry yogurt:
Start with some plain Greek yogurt and mix in the following:
Low-calorie sweeteners e.g. stevia or agave or small portion of honey or golden syrup
Vanilla essence
Optional: Vanilla protein powder
Warmed frozen berries
Add a handful of nuts & seeds on top for some crunch
Healthy chocolate yogurt:
Again, start with some plain Greek yogurt and mix in the following:
Low-calorie sweeteners e.g. stevia or agave
Vanilla essence
Cacao power or protein chocolate powder
Optional: Cacao nibs (healthy chocolate chips)
Sweet potato fries:
Sweet potatoes are a great source of fiber and well as containing an array of vitamins and minerals, especially B vitamins, vitamin C, iron, calcium, and selenium.
Cut up a sweet potato into thin slices. Toss the fries in approx. ½ a tablespoon of cornstarch before adding 1 tablespoon of olive oil. Bake in the oven until crispy. If desired, add seasonings such as pepper, garlic powder, or mixed herbs.
Banana oat cookies:
Ingredients:
½ cup of rolled oats
1 cup of oat flour (can blend regular oats in a food processor/blender to reach flour consistency)
2 medium ripe bananas
1/3 cup dark chocolate chips or raisins
½ teaspoon of cinnamon
Low-calorie sweetener to taste
Preheat the oven to 180 degrees Celsius. Mash the bananas into a puree type consistency. Mix in the oat flour, rolled oats, cinnamon, and chocolate chips/raisins.  If desired add in a low-calorie sweetener such as stevia or agave to taste. If the sweetener is a liquid add 2 tablespoons more oat flour to bind the mixture. This mixture will not spread while baking so form into the desired cookie shape, arrange on a baking tray lined with baking paper and bake for approximately 12-15 minutes.
These biscuits can be eaten on there own or with some Greek yogurt for a filling snack or even breakfast.
Banana Pikelets:
If you've got 10 minutes to spare then these are a perfect sweet, yet low sugar treat!
Ingredients:
One medium banana
One egg
½ cup of your choice of flour – whole meal, gluten free, almond, coconut etc. personally I prefer buckwheat flour as it has a high protein content!
¼ teaspoon of baking soda
¼ teaspoon of baking powder
½ cup of any type of milk (cows, almond, oat etc.)
1 tsp of cinnamon
Add all ingredients into a blender and blend until a smooth consistency Is achieved.  Fry in a pan cooking both sides. These can be eaten plain or topped with yogurt, berries etc. and can easily be packed in a container for an on the go snack.