The Truth About Abs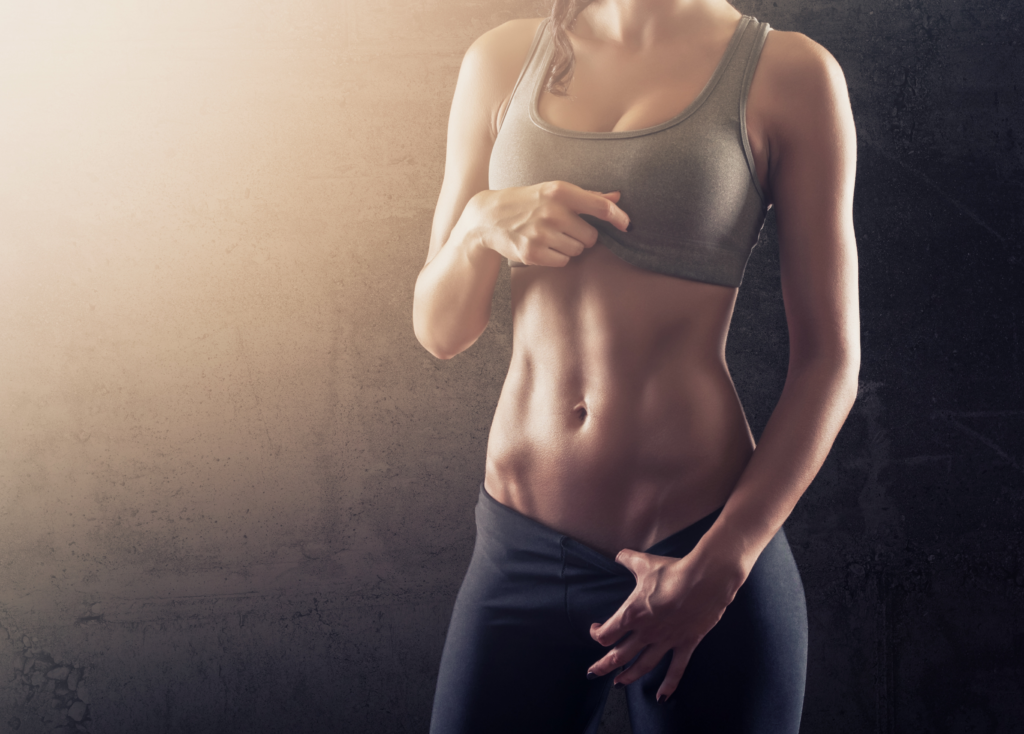 Different parts of the abdominals, how to get a flat stomach, how to strengthen your core…
We've all heard or tried to crunch our way to a six-pack! But I'm sure you soon realized that no matter how many you did, that six-pack never showed! The truth is there are more and better ways to effectively work out and define your abdominal muscles which a big part of this is your diet and getting leaner. Before we begin talking about how to define the abdominals it is best to understand how the muscle group is made up.
The four main muscles within the abdominal muscle group are:
Rectus abdominus – the long strap of muscle that extends the entire length of the abdominal wall (the muscle that is associated with the "six-pack" look). This muscle is responsible for all your movements that involve flexing or extending the spine e.g sit-ups or mountain climbers.
Internal & External obliques – these are considered your side muscles with your external oblique being the most superficial (closest to skins surface). In simplified terms, the external oblique runs downwards from the posterior part of the ribs to your abdomen and pelvis. Internal obliques lie underneath running from your pelvis/abdomen up towards the ribs (work in opposite directions). These muscles are responsible for any twisting, side flexion, or rotating of the torso e.g bicycle crunches.
Transverse abdominus – the deepest of the muscles with fibers running horizontally anteriorly across your middle. This muscle helps to compress the abdomen and stabilize the pelvis (known as the corset muscle as it provides the corset effect). This is the most important as it sits closest to the spine and improves posture and strengthens the lower back.
The core of your body
Abdominals play an important role in overall posture, balance & stability, good back health, and everyday tasks. The abdominals are the literal core of your body so it is important to train your abs for strength not only the idea of a flat stomach. When you have a strong core, you are less likely to put pressure on your lower back and reduce the chances of back pain as you get older. A strong core also helps to prevent injury throughout your everyday life by keeping your posture in check and giving you the support, you need to carry out things during the day.
The unfortunate thing with abs is no matter how hard you train them unless you're eating a healthy diet and losing overall body fat your six-pack won't show. That's not to say that doing a lot of core exercises isn't beneficial as you will be improving your core strength, however, you will not be able to spot reduce your stomach fat to show off your strong core with thousands of crunches. The key to improving your core definition and strength is to incorporate a range of core exercises into your everyday workout routine as well as lose overall body fat. People store excess body fat in all different places whether it be their stomach, hips, thighs, back etc, which can also affect the amount of hard work you will need to put in to get a strong visible six-pack.
Before you think it's going to be a never-ending battle between you, the gym, and your diet… Here are some of my helpful hints to get you closer to that six-pack and an overall stronger core!
Engage your core throughout the day! When you're sitting at your desk all day try and take a moment every so often to adjust your posture and activate your core. This means sitting upright and squeezing your tummy muscles together. If you do this enough times it will begin to feel natural.
Focus on compound movements that involve your core throughout your whole workout. In fact, in almost every exercise you should be engaging and activating your core in order to stabilize your movement. Such as during pushups – squeeze the core, front weighted squats – squeeze the core, and shoulder press – squeeze the core. This is all beneficial to your posture, preventing injury and executing the exercise correctly.
Try adding a 5-10-minute ab routine to the beginning of every workout. Often people save their ab exercises to the end of their workout and then choose to skip them out because 1. You've run out of time or 2. You can't be bothered. Adding abs to the beginning of your workout will help fire them up to remain engaged for the rest of your workout.
Understand your gut! Checking your stomach out in the morning is always so much more satisfying than later in the day because of our tummy's bloat. Bloating is completely natural and you cannot stop it from happening however, you can help reduce it by understanding what works for you. Certain foods may cause you to bloat more than others. Try and figure out what makes you bloat the most and control your portion sizes to prevent that 5-month-pregnant feeling.
Get up and move! The more energy you expend each day the better for not only your overall health, mood, gut, and energy levels but also helps aid in fat loss by burning more calories.
Focus on your core – when you are exercising your core, really focus on those muscles and practice proper engagement and contraction of them as you do the exercise. This is the best way to really feel that burn and get the most out of your workout.
Come chat to us about booking in for a complimentary personalised program and we can show you some of our favourite ab exercises. There are much better exercises than the traditional crunch or sit-ups.