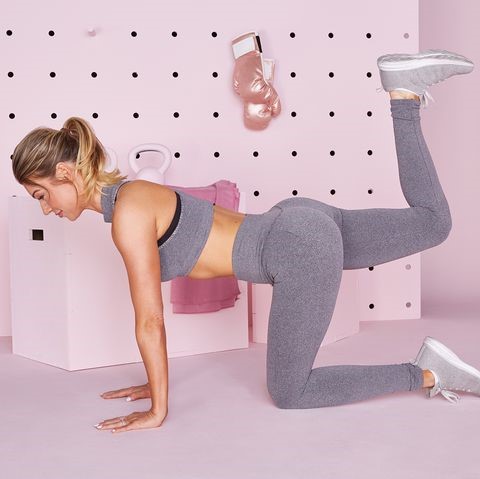 Hi ladies, Lauren here! I unfortunately did not win the genetic lottery when it came to my butt, and was blessed with a bit of a flat pancake (thanks mum and dad!). Looking through social media, big butts seem to be very on trend at the moment, and while some people may think it's great and want to grow their glutes, others may not, and that's perfectly okay, everyone has different goals for their bodies! But if you're looking for some tips to grow those glutes, keep reading.
Anatomy of the glutes
The Glutes are made up of 3 muscles, the gluteus minimus, the gluteus Medius, and the gluteus Maximus. Each play a different role, so you want to ensure you are working all three, just like you would train the front and backs of your legs. The glute max is one of the largest muscles in your body, and is the most superficial (close to the surface) of your glute muscles, which means that this is the muscle that will give you some shape. The glute med is located on the sides of your butt, and your glute min lies underneath both of these muscles. The glute med and min work with the glute max, to provide stability, and assist with simple tasks like walking and running.
Why should you train your glutes?
It's not just about getting a Kim K butt (although, I'm not convinced hers is 100% real…!) I personally would love to have bigger glutes, not only to have a bigger butt, but also because inactive glutes can lead to injuries in your hips and knees. A sign of inactive glutes can be knee pain, tightness in your quadriceps, or excessive fatigue in your quadriceps to name a few. Bear in mind that inactive glutes are not the only cause of these injuries, and you should always get these issues checked over by a doctor or a physiotherapist.
What a glute-focused leg day looks like for me/Key glute building exercises:
My glute focused leg days have the same 3 exercises always. These exercises are:
Squats
Deadlifts
Hip thrusts
I then add in two or three more "specialized" exercises, such as:
Bulgarian split squats
Hamstring curls
Curtsey lunges
Donkey kicks
Crab walks
I use the first three exercises every single leg day (I do 2 a week), this is because they are compound movements, meaning they train a range of different muscles and joints, which will overall help you gain strength everywhere. This is different to a hamstring curl, which is an isolated/specialised exercise, which targets the hamstrings alone. After having done my fair bit of research, I believe having a majority of your exercises be compound exercises, and throwing in some isolation exercises at the end of a workout are the best way to overall gain strength (and lose fat!)
Resistance bands and glute activation:  
Glute activation is something I've only learnt about in the past year. When it comes to squats for example, you should be able to feel your glutes working, but there was a long time where I really didn't feel them working, so I stopped doing them. Now that I've learned to activate my glutes, I never fail to feel them working! A lot of us are sitting constantly, whether we are at school, uni, or an office job. This means that our poor glutes get next to no use, which causes them to be inactive, so when it comes to doing your squats, your butt may not activate.
You can activate your glutes by using a resistance band (we have them hanging up by the dumbbells). You want to make sure that the resistance band is tight around your thighs, just above your knees. There are a number of exercises you can do to warm up your glutes, such as squats, clams, glute bridges, donkey kicks, and fire hydrants. If you're lost on what sort of exercises to do, there are a lot of YouTube videos to help you get started! It should take you about 5 minutes to warm up your glutes, you don't want to tire yourself out before you've even started your workout!
How long will it take to grow my glutes?
This will depend on genetics, how often you train, and what you eat. In order to gain muscle, you want to be eating in a calorie surplus. You can still gain muscle on your normal number of calories or even in a deficit, but it will take longer. While eating in a surplus, it is said to take around three months to really grow your glutes and see progress, however genetics also plays a part, for some it will take a lot less time, and for some (including me ☹) it will take a little longer. By adding some of those compound and isolated exercises to your next leg day, I'm sure you'll start to see some results soon!
If you have any questions about glutes or want some ideas for exercises, don't hesitate to let us know and we'll be sure to help you out!
See you ladies soon!
Lauren 😊